Product Details
The Santiago Jr is a custom-sized, budget-friendly, feature-rich drawer insert. This organizer was designed for flatware in narrow drawers, but may find other uses in your home. It creates tremendous value in your drawer by aiming to fill your drawer width, but not necessarily your drawer depth. This typically creates two more useful compartments fore and aft.
This is made from white 1/8" thick acrylic. Learn more about the quality of acrylic.
Heights from 1.5" to 15". Depths (front-to-back) from 3" to 15". Widths from 3" to 31".
We'll size the organizer's total depth based on your longest utensil up to 14.5" in length.
Our movable divider system allows adjustments of 1/2" and angling of dividers (see photo below)
Our sub-dividers allow you to control the length of the compartments made by the dividers. They aren't appropriate for drawers over 5" tall or with very wide divider spacings (over 3") or to contain heavy materials. Contact us for solutions in those cases.
For drawers 5" and less in height, we'll include a basic set of sub-dividers (1.5, 2, and 2.5" widths) and we will send you one USPS envelope's worth of additional subdividers of your choice if you request them within 30 days of receipt.
Scoops are a smooth cutaway of half of the divider's height in order to ease the ability of the hand to reach down into narrow compartments formed by the dividers. They are located at the center of the divider and have an effective width of about 2".
If the depth of the insert goes over 10", we omit the dividers' scoops for strength reasons. We also omit scoops on dividers of over 5" in height because they can no longer serve their purpose. Reply to your order confirmation email immediately if you would like to over-ride the scoop defaults one way or the other.
Attached bottom is optional (except in the case of very wide or tall units: For strength reasons, we require your Santiago Jr to have a bottom if the insert is wider than 12 inches or if it is taller than 5 inches.) and will add ~1/8" to the overall insert height.
Comes with four wedges to lock it in place — no more sliding organizer!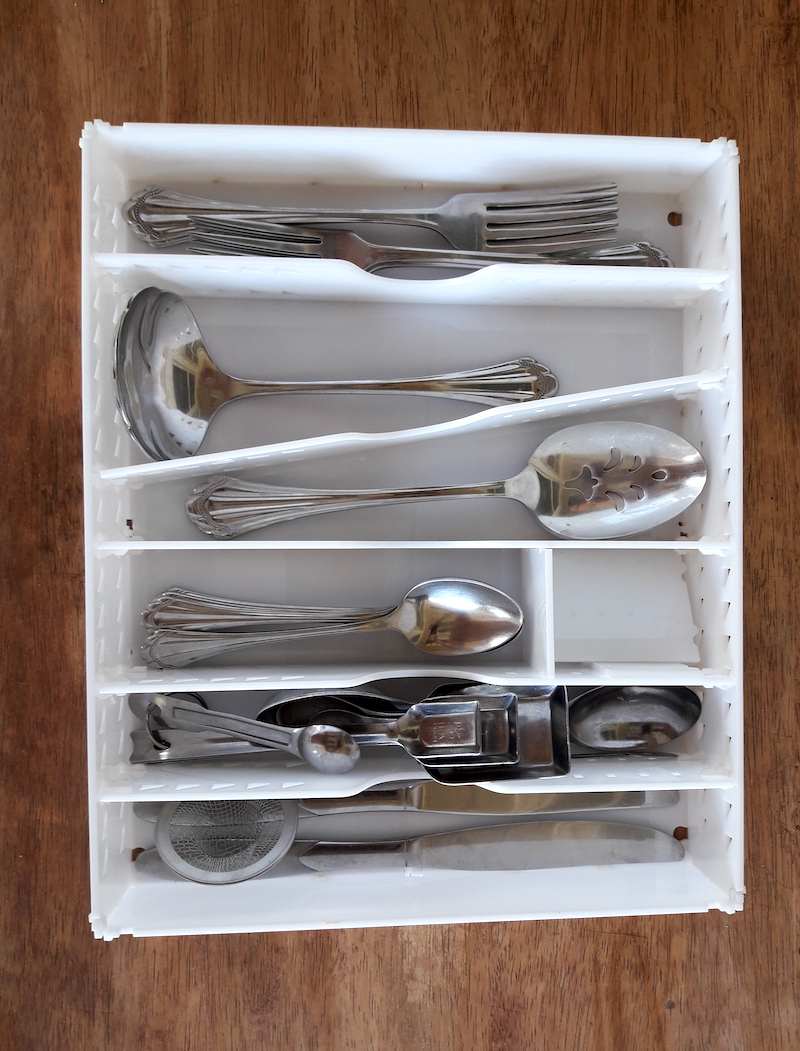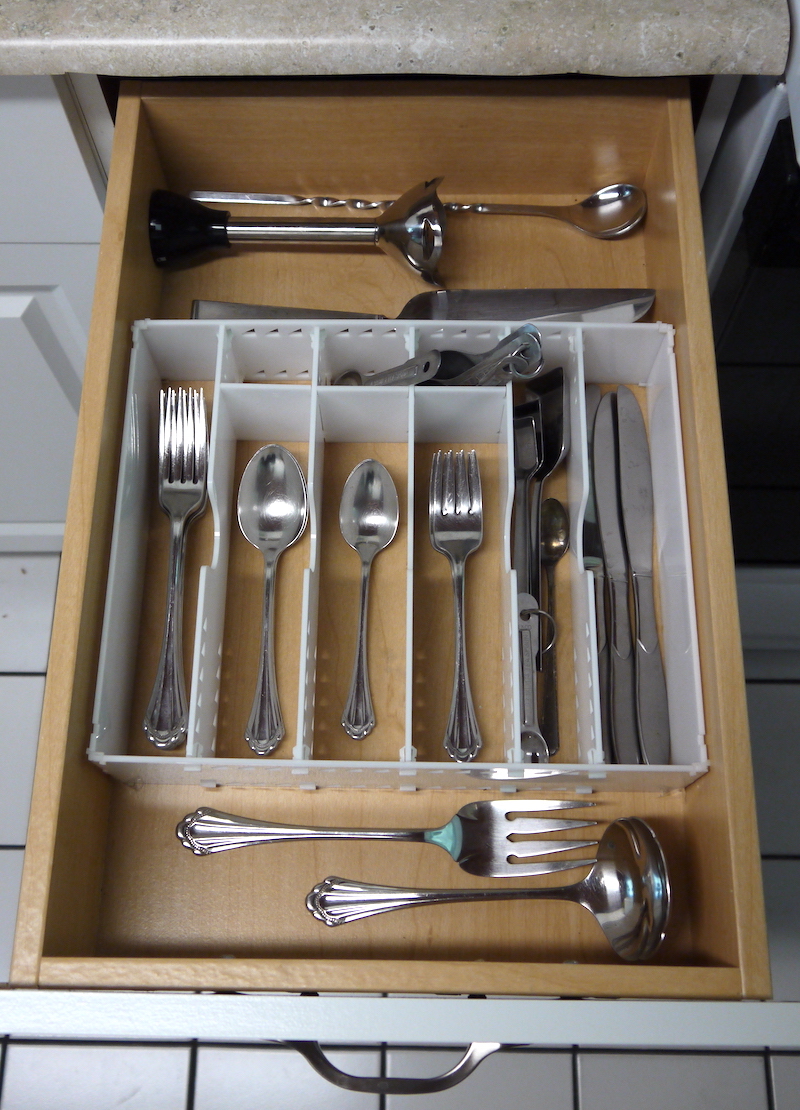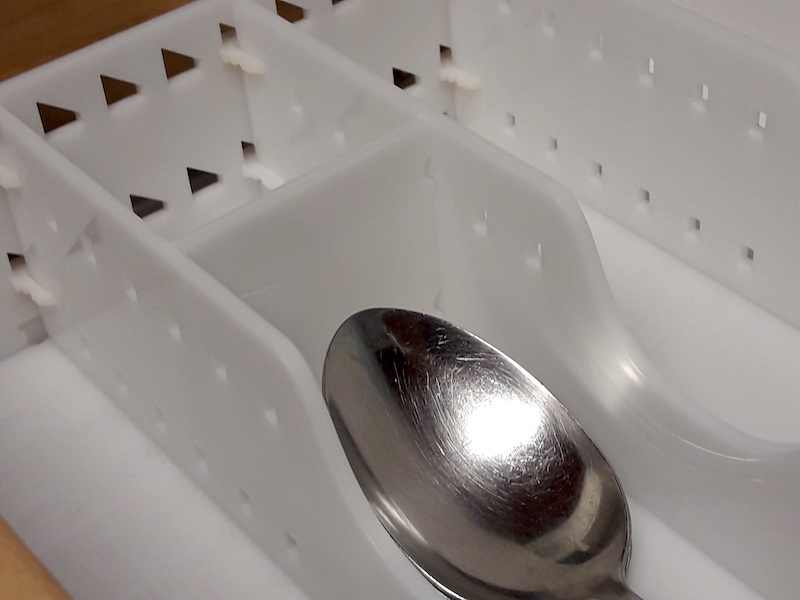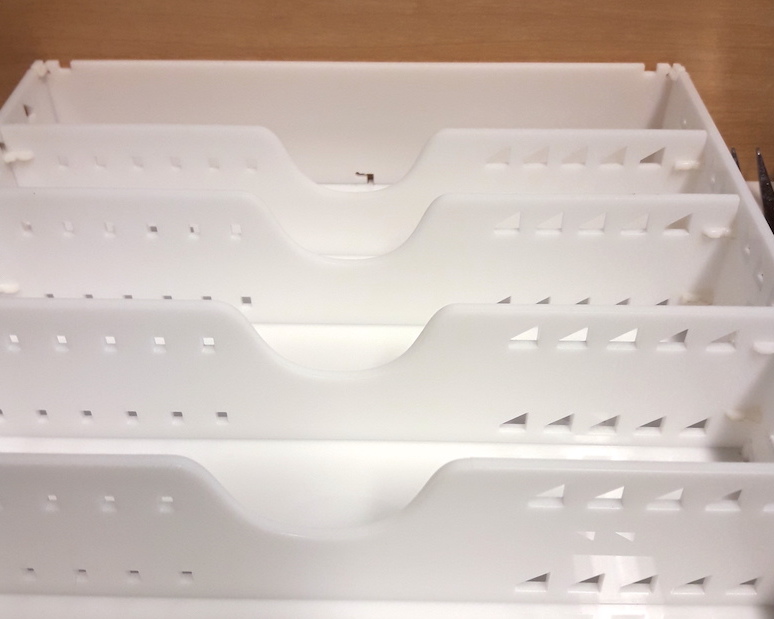 ...Then someone asked us to build a shoe organizer.

"Hmmm … could I use the Santiago Jr to do this?"

Turns out that … yup!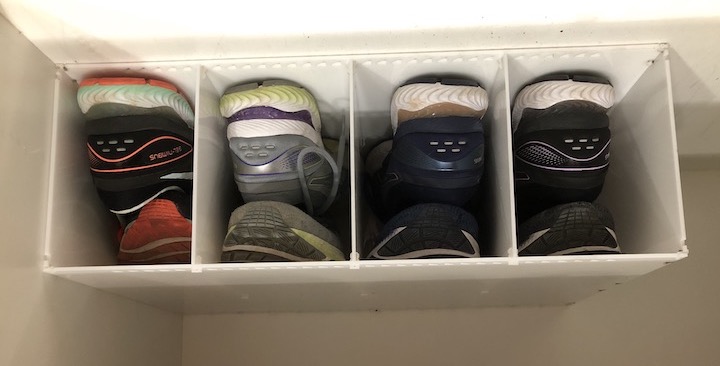 The key is that we're able to go up to 15" tall with these, unlike wood where we are limited to about 5" of height.

Then we realized it could be turned on its side to make a cabinet/shelf.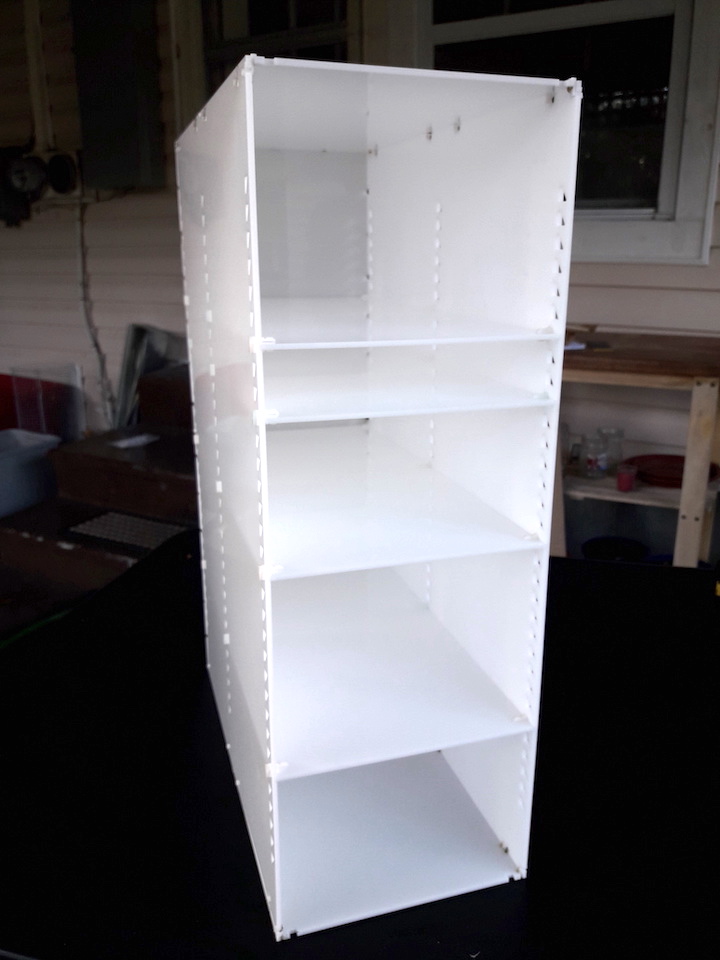 "Wow. That would really give us more storage in that awful space under the sink."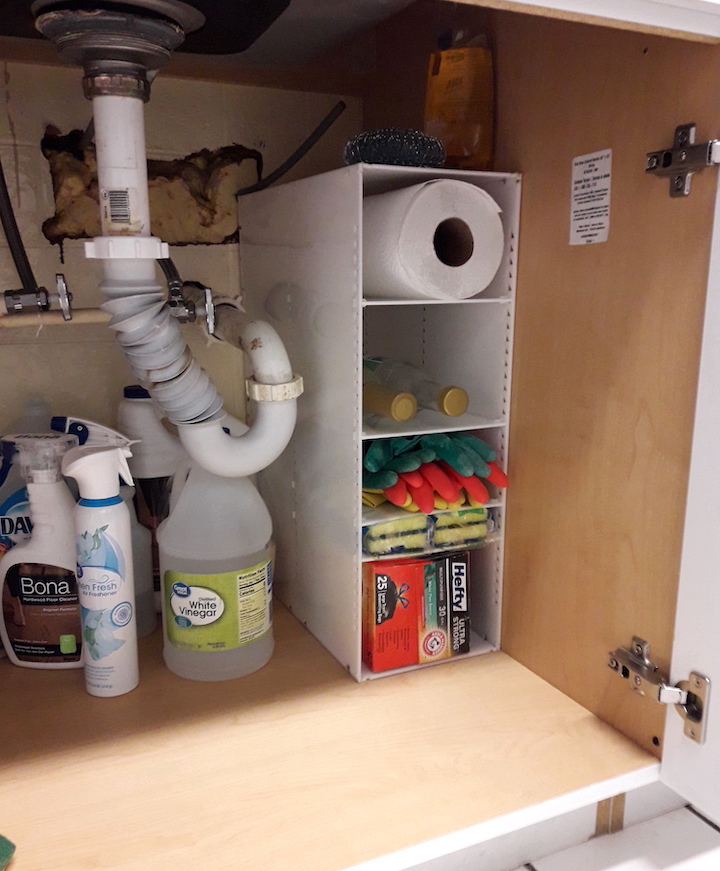 "Look! We can use a Santiago Jr for organizing our pile of pot lids."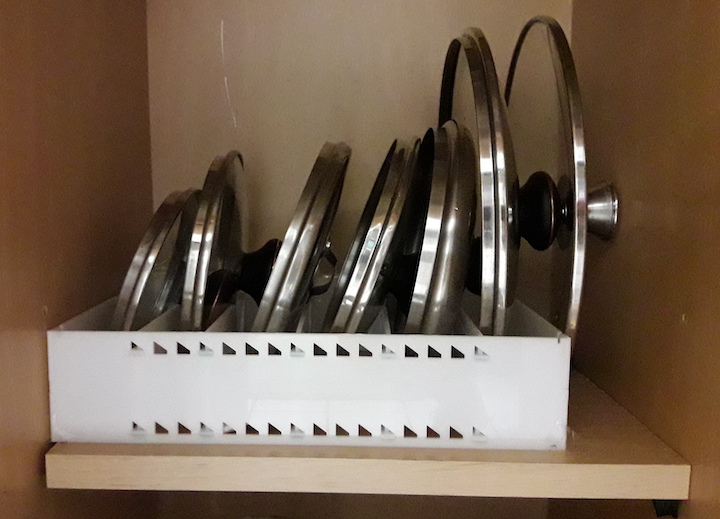 "If it was taller and had holes in the side it would be a great caddy for our special jars."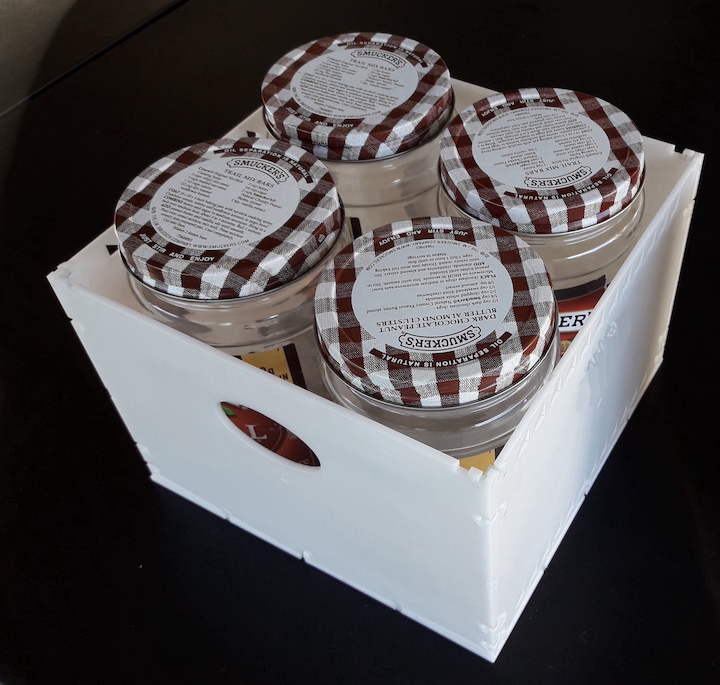 To get these handles added, just request them immediately after buying by responding to your purchase confirmation email.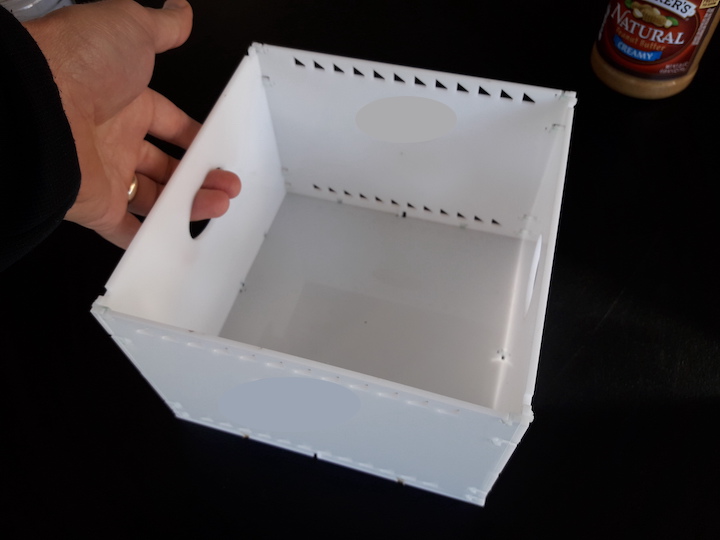 "Debbie wants a spice insert."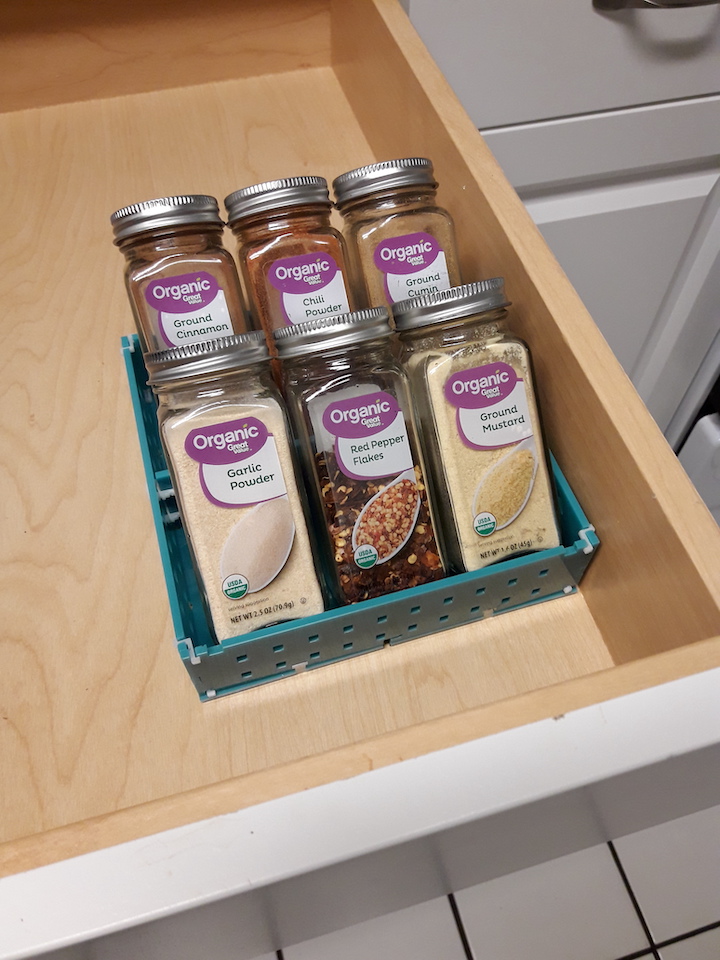 Yup. That's just a Santiago Jr! The key for this is to order a height of 1.5" and plan the insert/caddy so that you can turn it 90 degrees in the drawer so that the dividers will be running side-to-side.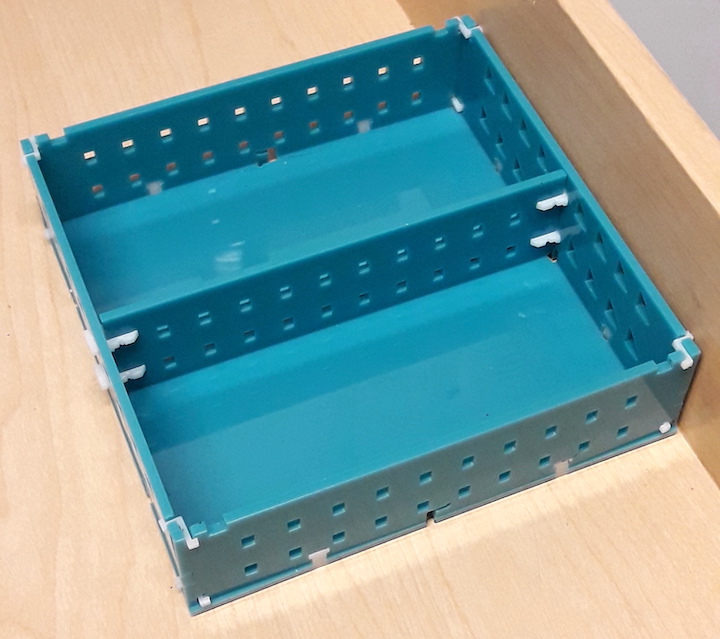 So, it turns out this "drawer insert" can be used in many other ways. Here are some tips for using the Santiago Jr ordering process to get a non-drawer organizer:
If you know the overall dimensions of the unit you want, then just enter in the "Drawer Width" and "Longest Utensil Length", whatever gives you your desired dimensions for "insert width" and "insert depth".
If you know the internal dimensions you need (the size of what you want to store in the organizer) then just add one half inch to each dimension and use those as your overall dimensions. (This implies that the walls are 1/4" thick, which is not technically true. The acrylic material is about 1/8" thick, but there are some slight offsets needed for fasteners etc, so the total wall thickness is effectively 1/4".
I look forward to seeing your ideas on how to use this!