Having trouble trusting your tape measure?
The best way to get an accurate measurement is to measure your drawer using multiple methods. The easiest way to measure - but not necessarily the most accurate - is in the following manner. (Image below)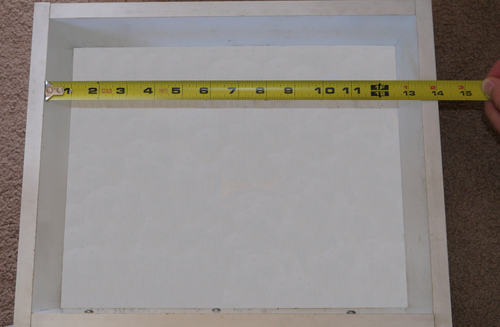 For each dimension, measure the drawer in three places - front, middle, and back - to check for consistency. Enter the smallest measurement for each dimension in the fields above.
Sometimes the tip of a tape measure will be bent or broken. Even a new tape measure may have this problem! If that's the case or if you are unsure, try this:
Instead of measuring by starting from zero (the tip), you can measure starting from 10" or any other round number. Then just subtract the start number from your measurement.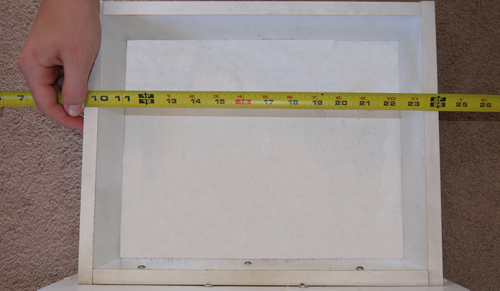 It is especially difficult to measure to the corners of the drawer. If using the +10 method above, it can be difficult to see exactly where the corners on the bottom of the drawer begin. Using the following credit card method can help.
Most credit cards are a standard size: 2.125" wide. Lay a credit card against a side of the drawer. Measure from one end to the credit card. Then add in the width of the card.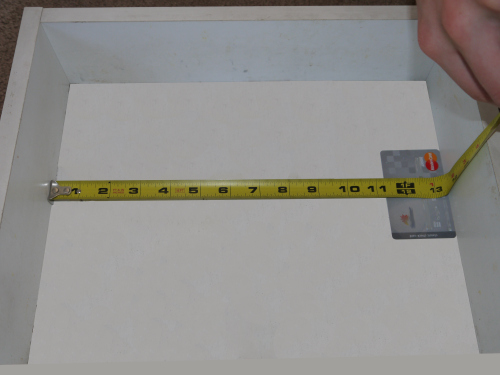 Sometimes it is hard to get a clean reading on the back or front of the drawer due to nearby obstructions. If your drawer does not fully extend out of the cabinet, it can be challenging to get a good measurement.
If you have trouble, the best strategy is to completely remove your drawer from the cabinet. At first it may seem that there's no way to get it out, but keep looking things over and you will find the secret. It is extremely unlikely that your drawer slides (or "runners") will not allow the quick removal of the drawer. You should not have to unscrew anything!
Some people have vision problems that make it hard to read the fine lines on a tape measure. Others may have trouble interpreting those lines to arrive at a measurement. ("Is this seven-sixteenths or nine-sixteenths?")
In these cases, you need to get help. We cannot accept returns of custom inserts unless the fault is ours. It's a hard line, we know, but it helps keep the price low for everyone else. Thanks for your understanding.